chimbleysweep posting in

lavenderdiary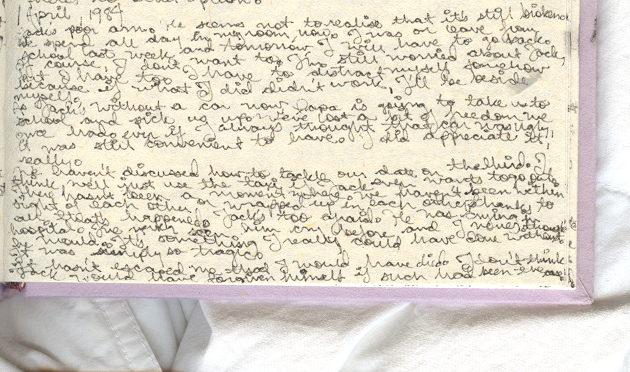 1 April, 1984

Jack's poor arm. He seems not to realise that it's still broken. We spend all day in my room, now. I was on leave from school last week and tomorrow I will have to go back. Of course, I don't want to, I'm still worried about Jack, but I have to. I have to distract myself somehow because if what I did didn't work, I'll be beside myself.

As Jack's without a car now, Papa is going to take us to school and pick us up. We've lost a bit of freedom we once had; even if I always thought that car was ugly, it was still convenient to have. I did appreciate it, really.

We haven't discussed how to tackle our date on the third. I think we'll just use the taxi if Jack even wants to go out. There hasn't been a moment where we haven't been within sight of each other or wrapped up in each other, thanks to all that's happened. Jack's too afraid. He was crying in hospital. I've never seen him cry before and I never thought he would. It's something I really could have done without. It was simply so tragic.

It hasn't escaped me that I would have died. I don't think Jack would have forgiven himself if such had been the case. He already hangs his head and it wasn't his fault. I don't see how he thinks it is. Jack's car was low and it was dark and the circumstances were simply unfortunate.

Of course it's not an experience I ever want to relive, but I'm doing my best to prove to Jack that I'm real and I'm not going anywhere. It's difficult to cope with his insecurities when mine are actually realistic. I can't die.